Cursed Console #Pico1k
Plot
Oh mighty Zep, a quest for thee: to fix this bug in oh-two-three.
Time's very fabric has been torn, and monsters from the past reborn!
A pumpkin army's impossible roll befouls our once cozy console.
Its humbled clock refunds too much, permitting Cauldron's villain's touch.
Relentlessly they spin and taunt, they dare thee to remove their haunt.
Please help us take our console back and save us from their cycle hack!
Their jeering eyes provide the clue, all stars show what you must do.
A table's count below sixteen, as low as any number's been,
Negate it and they'll mock you more... the wellspring of this wretched flaw!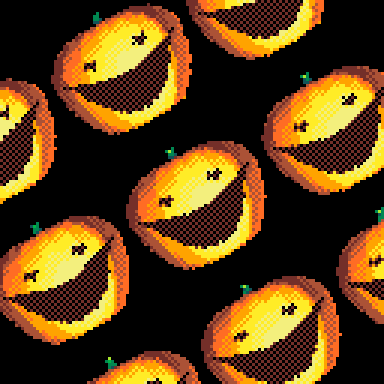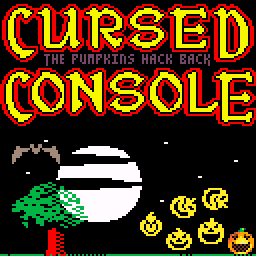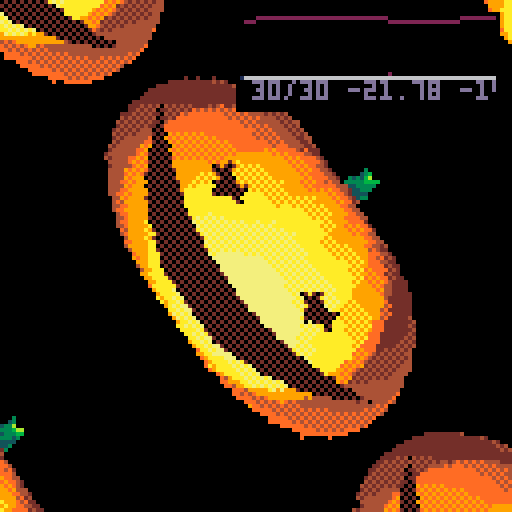 About
A PICO-8 bug report demo in 1023 characters for #Pico1k jam 2021. Inspired by the classic 8-bit game Cauldron (Copyright 1985 Palace Software), from which the music was reverentially reproduced. Original score by Keith Miller.
Code

_set_fps(60)𝘩=64★={}s=.001𝘴=sin
while(#★>=0)add(★,★)
poke(24337,ord('░⁴웃	\n♥⬇️⬇️³³⬅️⌂\0\0',1,14))𝘢=abs
fillp(▒\1)𝘤=cos?"⁶c0⁶w⁶t  ᶜe★"
function 𝘭(𝘺)all(★)for t=0,█,s do
w=r-r/3*𝘴(t*7%█)x=w*𝘤(t)𝘹=𝘢(x)z=w*𝘴(t)l=(x*x+y*y+z*z)^.5b=1+𝘢(x/5+y/3+z)/l*5
if(y>=11-x^2/200and y<=27-x^2/83+𝘹*.1or pget(𝘹,-y)>0)b=8
sset(𝘩+x,𝘺+y,b+((b+█)\1-b\1)*8)end end
y=0while(y<9)r=2+y/16𝘭(22)y+=1
a=0while(a<.43)d=30+15*𝘢(𝘴(a))y=d*𝘤(a)r=d*𝘴(a)𝘭(𝘩)a+=s
function p(v)poke2(d,v)d+=𝘥 end
𝘥=2𝘮=12280d=𝘮 for i=1,84do n=ord('@/\0」@)t𝘸ᶜᶜらᶠᶠᵉᵉ⁘⁘き⁙⁙き◝◝■■ら●⬅️ᵉᵉ…エせらめぬ$+07<70+は$,08<80,ャ◝ほ$)05<50)は$*06<60*&+2◆72◆せ*ャは',i)
if(n<128)p(n)d-=1else for _=0,n\16%8do p(%(d-n%16*2-2))end end
p(-32384)p(770)
d+=316𝘥=68v=7169p(v+24)p(v+32)p(v)p(v)music()
𝘳=0function 𝘱()p(%c+@a)c+=2end
::_::?"⁶1"
while(𝘳-8&31!=stat(20))d=12800+𝘳%32*2a=𝘳%128+𝘮+8c=𝘮 𝘱()𝘱()a+=128𝘱()𝘱()𝘳+=1
a=t()*.1c=𝘤(a)s=𝘴(a)𝘻=s+2for y=-𝘩,𝘩 do all(★)for x=-𝘩,𝘩 do v=𝘩+(s*x+c*y)*𝘻&127
𝘷=v-73if(𝘷>0)v-=𝘷*𝘴(a*16)/2
k=sget(𝘩+(c*x-s*y)*𝘻&127,v)d=k\8k%=8if(k>0and v<30)k+=7
pset(𝘩+x,𝘩+y,k+(k+d)*16)end end goto _